KitoTech Medical Introduces microMend® Wound Closure Products for the Consumer Market
SEATTLE (PRWEB) MAY 18, 2020
KitoTech Medical, a medical device company, announces the launch of its wound closure device, microMend®, for sale directly to consumers. Until now, the product has been primarily available to medical professionals in hospitals and clinics for closing lacerations and other wounds.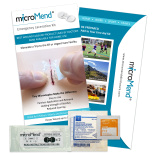 The new "over-the-counter" (OTC) product is identical to the company's microMend for medical use but packaged in convenient "Kit" format for use by end users. Two microMend kit options are available to consumers: 1) An Emergency Laceration Kit that includes everything needed to close a single wound, two (2) microMend devices, alcohol pad and gauze), and 2) The Emergency Laceration Closures "multi-pack" that contains six (6) microMend devices for multiple wound closures.
"We are pleased to offer microMend for direct consumer purchase. The product is ideal for treating lacerations wherever they occur whether at home or on the go. Similar performance to stitches coupled with easy and painless application makes microMend a perfect addition to your first aid kit. And a must for those who want to avoid expensive visits to the ER or Urgent Care Clinic, especially during the COVID-19 crisis," said Ron Berenson, MD, President and CEO. "Accidents happen and now anyone can be prepared."
About microMend®
microMend consists of an array of tiny staples (Microstaples) attached to an adhesive backing that combines the holding strength of stitches with the simplicity of applying a bandage. The Microstaples are tiny and only enter the upper skin layer making them painless. microMend is designed to provide a cost-effective, time saving and easy-to-use option for closing lacerations, skin tears, surgical incisions, and other wounds. microMend keeps wounds securely closed allowing them to heal with minimal to no scarring.
About KitoTech Medical
KitoTech Medical, Inc. is a Seattle-based medical device company that spun out of the University of Washington and continues to develop and commercialize products for wound closure and wound care. More information about microMend and KitoTech Medical can be found online at http://www.micromendskinclosure.com.