KitoTech Medical Introduces Next Generation microMend® SMALL at the Pediatric Emergency Medicine Assembly
SEATTLE (PRWEB) APRIL 04, 2019
KitoTech Medical, a Seattle-based medical device company, has announced the launch of its next generation of microMend wound closure products, the microMend SMALL. The product retains the powerful holding strength of the first generation device, but is shorter and more versatile. Its size makes it possible to close wounds in smaller more discrete areas as well as larger skin surfaces on the body.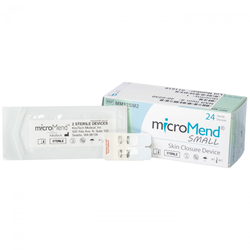 The new microMend SMALL is especially attractive in the ER, because it can be used to close wounds on the face, hands, and fingers, which are the most common locations for lacerations. It is also able to close complex wounds with jagged edges that are often seen in the ER. In addition, microMend's speed and ease of use, and the patient's ability to painlessly remove the device are major advantages over current wound closure products.
Due to these benefits and its painless application and removal, the microMend SMALL generated strong interest when it was introduced at the Pediatric Emergency Medicine Assembly on March 19-20 in Anaheim, CA.
"The microMend SMALL represents KitoTech's commitment to develop a portfolio of products that can provide fast, easy to use, and effective wound closure. In clinical testing, we are seeing outstanding results with the new product in closing wounds of a variety of sizes and shapes, and we look forward to its broad use in clinical practice," said Ronald Berenson, MD, President and CEO.
About microMend®
microMend consists of an array of tiny stainless steel staples (Microstaples) attached to an adhesive backing that combines the holding strength of a suture with the simplicity of applying a bandage. It is designed to provide medical personnel with a cost-effective, time saving and easy-to-use option for closing lacerations, skin tears, surgical incisions, and other wounds.
More information about the product can be found at: http://www.micromendskinclosure.com
About KitoTech Medical
KitoTech Medical is a Seattle-based medical device company spun out of the University of Washington that is developing and commercializing products for wound closure and wound care.