KitoTech Medical Named one of Top Ten Medical Device Startup Companies for 2019 by MedTech Outlook
SEATTLE (PRWEB) DECEMBER 05, 2019
KitoTech Medical has been named one of the top ten medical device startup companies for 2019 by the major medical device industry publication MedTech Outlook. The company is marketing a revolutionary new wound closure product, microMend®.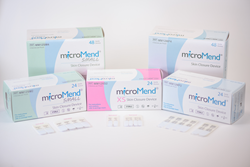 microMend consists of an array of tiny metal staples (Microstaples) attached to an adhesive backing that achieves similar holding strength to sutures with the ease of applying a bandage. microMend is designed to provide physicians and other health care providers with a cost-effective, time saving, and easy-to-use option for closing lacerations, skin tears, surgical incisions, and other wounds.
microMend's effectiveness has been demonstrated in multiple clinical studies. It is being sold throughout the US in a broad range of sizes to close the vast majority of wounds that are encountered in clinical practice.
KitoTech Medical's President and CEO, Ron Berenson, MD, commented, "We are honored to receive this recognition, which is a result of the efforts of our internal team as well as our collaborators that helped to develop microMend. The endorsement of the product by many physicians has been gratifying as is their recognition of its superiority over existing wound closure products. We are also encouraged by the growing sales of microMend into hospitals and other facilities, which confirms both the clinical and economic benefits of microMend. Our selection by MedTech Outlook validates the potential of KitoTech Medical to become a major player in the medical device industry."
ABOUT KitoTech Medical
KitoTech Medical is a Seattle-based medical device company that is developing and commercializing products for wound closure and wound care.
More information about KitoTech Medical and microMend® can be found at: http://www.kitotechmedical.com